Chamber Orchestra TECHNIK (english)
The TECHNIK Chamber Orchestra was established in 1965 as an independent group of the TECHNIK Ensemble of the Slovak University of Technology. Two excellent and enthusiastic musicians and organizers Jindřich Drmola and Zdenĕk Somora stood at its birth and gradually led the amateur body towards a professional level.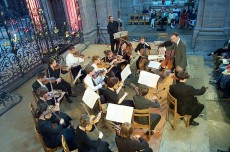 The artistic growth continued under the artistic leadership of prof. Ján Pragant (1986 – 1996). He was followed by the talented conductor and composer Mirko Krajči who is working with the orchestra up to the present time. Since 2007, the member of the Moyzes Quartet František Török has been active in the Orchestra as music pedagogue and concert master.

Several generations of young professional and amateur musicians have already joined the orchestra. Currently, the orchestra has about 25 active players and it regularly collaborates with emerging young soloists and several choirs.
The TECHNIK Chamber Orchestra invites its audiences to concerts and other cultural events in Slovakia and abroad several times a year. It succeeded in gaining a good reputation and found its place at international events and festivals, e.g. in Austria, England, France, Germany, Italy and Portugal.
The repertoire of TECHNIK is rich and varied in character, presenting music of various music styles and time periods. TECHINK is known for performance of the works of established and well-known composers, featuring works of prominent Slovak composers, but at the same time offers space for the presentation of less-known and/or young, beginning artists.
TECHNIK chamber orchestra presents itself at numerous concerts during the art season in Slovakia, as well as abroad: on music festivals, concerts on special occasions, presenting chamber music at self-organized concerts, and performing for the Slovak University of Technology, as well as for sponsors, and/or other companies and organizations interested.
The concert program composes of the current repertoire of the orchestra. The usual performance of TECHNIK is a concert: program – 2 x 40 min., break – 20 min. he length and the program of the concert, as well as the number of players can be agreed upon individually. It is also possible arrange a joint performance with other components of the Ensemble TECHNIK, the choir and/or folklore ensemble.
CDs:
Fragmenty (2017)
In 2017, TECHNIK Chamber Orchestra released a CD contained selected parts of the top production of the last years:
A. Vivaldi: Sinfonia in G major RV 146, I. Allegro (2:15)
O. Respighi: Ancient Airs and Dances, Suite No. 3, III. Siciliana (3:39)
H. Purcell: Abdelazer Z 570, I. Overture (3:45)
G. F. Händel: Concerto Grosso Op. 6, Nr. 6 HWV 324, III. Musette (5:07)
G. B. Sammartini: Sinfonia in A major, III. Presto assai (3:31)
A. Dvořák: Serenade in E major Op. 22, I. Moderato (5:02)
P. I. Tchaikovsky: Serenade in C major Op. 48, II. Valse (4:29)
E. H. Grieg: Holberg Suite Op. 40, IV. Air (5:34)
B. Britten: Simple Symphony Op.4, IV. Frolicsome Finale (3:16)
J. S. Bach: Suite No. 3 in D major, BWV 1068, II. Air (5:10)
Total time: 41:47

TECHNIK Chamber Orchestra
Conductor: Mirko Krajči
Music pedagogue: František Török

If you are interested in the CD, please contact us at: orchester.technik@stuba.sk. Price: 7 € + postal charges..
Technik & Mirko Krajči (2011)
In 2010, TECHNIK Chamber Orchestra released a CD dedicated to the works of its conductor and artistic manager MIRKO KRAJČI.
With the TECHNIK Mixed Choir and guest performers, the CD presents works of Mirko Krajči from years 2005 - 2009:
Pietà (2005) - 12´40
Double-Concerto for Violin, Violoncello and Chamber Orchestra (2009) - 26´35
(I. Allegro, II. Andantino, III. Lento)
Soloists: František Török – violin, Orsolya Kovács – violoncello
Cesta života / The Way of Life for Mixed Choir and String Orchestra (2008) - 19´02
Guest: TECHNIK Mixed Choir, Iveta Viskupová - choirmaster
Tangissimo for String Orchestra (2008) - 12´05
(I. Abrazo, II. Camelo, III. Embeleso)
Soloists: František Török – violin, Orsolya Kovács – violoncello
Total time: 70´44.
Technik (1999)
In 1999, TECHNIK chamber orchestra recorded its first CD. It contains an orchestral piece by JOSEF SUK – Meditation on the Old Czech Chorale "St. Wenceslas" op. 35, performed by TECHNIK chamber orchestra, and a piece by Giovanni Battista PERGOLESI – Stabat Mater, performed by TECHNIK Chamber orchestra and TECHNIK female choir.
The CD was presented on December 6, 2000 in the concert hall of the Bratislava Castle, on the occasion of the 35. anniversary of TECHNIK chamber orchestra, and awarded the "Honor of the General Director of the National Centre for Culture and Education for years of outstanding activity and promotion of the Slovak concert art home and abroad".
Contact:
(Address)
Chamber orchestra TECHNIK
Slovak University of Technology (STU) Bratislava
Vazovova 5
812 43 Bratislava
Slovakia (SK)

E-mail: orchester.technik@stuba.sk

Contact Persons:

Martina Hudcovská, phone no. (mobile):+421 904 804 433
Bibiana Rybárová, phone no. (mobile): +421 948 292 899
TOP aktuality:
Odoberajte pozvánky na naše koncerty

Niekoľkokrát ročne vás e-mailom pozveme na naše nové koncerty.
Prihláste sa k odoberaniu
Príď medzi nás
Hráš na sláčikový hudobný nástroj a máš chuť si zahrať v orchestri? Príď medzi nás a zaži s nami množstvo zábavy! Členstvo nie je podmienené vekom, školou, ani profesiou. Príď sa pozrieť na ktorýkoľvek nácvik a najlepšie aj s nástrojom.
Podporte nás 2 % z dane
Podporte financovanie potrieb pre hudobné nástroje, propagačných materiálov a častejších koncertov - venujte svoje 2 % z dane Techniku. ĎAKUJEME!
Jar 2022: opäť riadne nacvičujeme a pripravujeme nové koncerty
Od februára nám bolo postupne umožnené nacvičovať a na jarné mesiace už pripravujeme aj nové koncerty. Tešíme sa na vás!
Oznam o prerušení spoločných nácvikov a odložení plánovaných koncertov
(jar 2020) Vážení priaznivci, z dôvodu nariadenýcch opatrení voči šíreniu pandémie koronavírusu boli od jari 2020 zrušené nácviky a vystúpenia orchestra a krátke obdobia počas uvoľnení nepostačovali na naštudovanie nového programu. O našom návrate na pódiá vás budeme informovať. Ďakujeme za pochopenie
Zúčastnili sme sa festivalu FIMU 2018 v Belforte
Po niekoľkoročnej pauze sme sa v dňoch 17.-21. mája 2018 opäť zúčastnili na medzinárodnom multižánrovom hudobnom festivale FIMU vo francúzskom Belforte. VIAC
Predstavujeme naše nové CD Fragmenty
Súčasťou koncertu v júni 2017 bol krst nášho nového CD "Fragmenty" s vybranými časťami z desiatky najhranejších skladieb uplynulých rokov. V prípade záujmu o zakúpenie CD nás kontaktujte.
Stali sme sa víťazmi aj v súťaži Divertimento Musicale 2017
Aj v roku 2017 sme sa z festivalu Divertimento Musicale vrátili až s trojicou hlavných cien - ako víťazi kategórie Komorné orchestre dospelých (zlaté pásmo), s cenou Národného osvetového centra za interpretačný výkon a k tomu s najvyšším ocenením Laureát súťaže.
Sledujte nás aj na YouTube
Spustili sme aj vlastný kanál na YouTube a ak chcete informácie o našich nových videách a máte Google účet (alebo YouTube účet), kliknite na našej YouTube stránke aj na červené tlačidlo "Prihlásiť sa na odber". YouTube vás o novom pridanom videu upozorní na hlavnej stránke, v sekcii Odbery, prípadne aj e-mailom.
Dostali sme sa do hlavných správ RTVS!
V sobotu 5.12.2015 odvysielala RTVS v hlavných večerných správach reportážny príspevok k 50. výročiu založenia nášho orchestra. Pozrieť si ju môžete na našom YouTube (samostatne) alebo v TV archíve RTVS (od 41. minúty).
Príď medzi nás
Hráš na sláčikový hudobný nástroj a máš chuť si zahrať v orchestri? Príď medzi nás a zaži s nami množstvo zábavy! Členstvo nie je podmienené vekom, školou, ani profesiou. Príď sa pozrieť na ktorýkoľvek nácvik a najlepšie aj s nástrojom.
Nájdete nás aj na Facebook-u
Vážení priaznivci, orchester Technik nájdete aj na stránkach facebook-u...

>> Archív starších správ